Helical Worm Geared Motor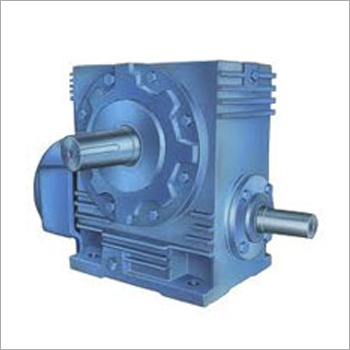 Helical Worm Geared Motor
Product Code : HWGB 05
Brand Name : KEDA
Helical Worm Gearbox
!!! World's leading Supplier & Dealer of Helical Gearbox, Worm Helical Gear Box from Delhi!!!
| Latest | Easy Install | Innovations | Smooth Functioning | Industry Leader |
We have gained market leadership in the domain of supplier and dealer, engaged in offering high quality Helical Gearbox, Worm Helical Gear Box, Extruder Gear Box, etc in Delhi. This gearbox is widely used to transmit the torque between parallel and right angled shaft. Sourced from the trusted vendors of the market, this gear box is manufactured under the supervision of our vendors' expert. Highly demanded for its excellent performance, this gearbox can be easily installed in various machines to minimize their noise. We offer this Worm Helical Gear Box In Delhi with different specifications at market leading prices.

Products Features:
Robust construction
Operational fluency
High Durability & Reliability
Low Maintenance Requirements
Built With Latest Hi-Tech Equipment
Superior Quality & Long Life
Competitive Prices
Precisely Well Tested
Easy installation
All India Sales & Service Network
100% Indigenous Product Quiet And Smooth Operation
Excellent Quality
Best for less maintenance
Helical Gearbox/Worm Helical Gear Box Technical Data:
Output torque:93-3990(N.m)
Rated power:0.12-22(kw)
Input speed:≤3000 (rpm)
Output speed:≤146(rpm)
Transmission ratio:≥6.8
Series:2
Mounting Way:M1-M6(Pls refer to below photo)
Type No. :S/SA/SF/SAF/SH/SHF(37/47/57/67/77/87/97)
Helical Gearbox/Worm Helical Gear Box Specification:

TYPE NO.
37
47
57
67
77
87
97
TYPE
S SA SF SAF SAT SAZ
Input power(kW)
0.12-1.1
0.12-1.5
0.18-3
0.25-5.5
0.75-7.5
0.75-15
1.5-22
Transmission ratio
6.8-157.43
7.28-201
7.28-201
7.56-217.41
8.06-256.47
7.88-288
8.26-286.4
Torque(N.m)
93
170
245
520
1170
2130
3990
Weight(kg)
10
14
18
40
65
110
180
Our Available Products & Models Range

Elecon Worm Gear Box
The offered Elecon Worm Gear Box are specially designed with high quality raw materials. The high performance geared box is applicable in various frames and used in various industries such as paper mills, road rollers, concrete mixers. There are different specifications for the machine suitable for various applications.

Super NU Series
EP-Series
ET-Series
Extruder Gear Units
Series P
Altra Worm Gearbox
Altra Worm Gearbox are designed to perform high efficient work and load carry. The machine has longer shelf life with reliable service. It is available in various types such as under driven, oven driven and vertical units in single and double reduction. The machine is applicable in conveyor, material handling, ball mill and thermal power plant.

ALM025
ALM030
ALM040
ALM050
ALM063
ALM075
ALM090
ALM110
ALM130
Pbl Motor Mount Gearbox:
PBL Motor Mount Gearbox is highly efficient geared motor with hollow input shaft and flange to be applicable different IEC frames. The co-axial flange and shaft make it easy for the gearbox to operate along with high output speed.

Series A - 0.4kw - 11kw
Series M - 0.12kw - 90kw
Series K - 0.12kw - 90kw
Series F - 0.12kw - 45kw
Series C - 0.12kw - 45kw
Premium Energy Transmission Limited
GHE - 112, 125, 140, 160, 180, 200, 225
U - 400, 500, 600, 700, 800, 900, 1000, 1200, 1400, 1700
V - 400, 500, 600, 700, 800, 900, 1000, 1200, 1400, 1700
Why you choose us ?
Make available the best affordable solutions for them meeting perfect requirements of their applications
Perfect for industrial applications.
Trustworthy organization in the market.
Gained market leadership in the domain of Helical Gearbox, Worm Helical Gear Box, etc.
We procure Helical Gearbox & Worm Helical Gear Box from authentic vendors who adopt latest techniques to develop sophisticated products in bulk quantity.
Energy saving, long service life and cost efficient features.
We deal in all type of Helical Gearbox, Worm Helical Gear Box, etc.
Design and manufacture with High quality standards, innovative technologies and meet the industrial norms of quality.
Committed to offer quality, innovative & energy-efficient products to our customers.
Technologically good and cost-effective products.
We are one of the best supplier, dealer & trader of Helical Gearbox & Worm Helical Gear Box From Delhi

How A Gear Works

The basic design of gear consists of two disks placed together in a tangent line and the rotation of one of these disks ensures rotation of the other disk in the opposite way. The rotation of these disks is the outcome of surface roughness and any difference in the surface roughness results in slippage. In order to raise this surface roughness, we need to crop both of these disks and to form teeth on the basis of their perimeters. This process is a suitable option to avert slippage. In addition to that, this specific technique is useful for controlling and adjusting speed, rotational force and axis. Most of the machinery that work on the principle of gyration, consist of gears. The application of gears can be noticed in all sorts of mechanical devices ranging from medium of transportation like cars to household items like clocks.

Why We Need Gears?

The motion of any machine depends on gears. The mechanism of gears have significant role in the functioning of complex equipment :

Gears can interchange the course of motion.
It can alter the rapidity or rotational force.
It can move rotation to different axis or transform torque into linear motion or the other way round.

What is Helical Gear?

A helical gear is a bar or rectangular shaped gear that consists of straight teeth on its front part and has vertical direction to the rotational axis. Widely used in vehicle parts production industry, this specific gear is equipped with twisted spur gear teeth at an angular direction. The spur gear teeth is effective in transferring rotational force and power between parallel shafts or right angle shafts that gyrate towards the opposite route.

Due to its long lasting nature, this type of gear is considered suitable for heavy load application purpose.

It is usually fabricated by using materials like aluminum, brass, plastic and steel.

The utilization of helical gears can be noticed in machinery like automobiles, blowers, compressors, conveyors and elevators.

Apart from its usage in marine sector, this type of gear is also utilized in feed drives,, machine tools, rolling mills, sand mullers and turbine drives.

The worm gear units are merged with a helical gear unit to enhance transmission ranges and to reduce the noise level of machinery. Advanced mechanism and rotational force help in trouble free operation of machinery and save space required for installation of machinery. These are also useful in saving operating cost. Helical worm gear units are reckoned for their efficiency in hoisting and shifting heave loads in a safe manner.

Technical Data:

The offered gear can be obtained in 6 different models with center space ranges between 50 to 160 mm.
It features with more than 20 standard rotational frequency ratio per size ranging from i= 7.5 to 282
Output drive of its rotational force is up to 4,300 Nanometer.
Driving power is up to 37 Kilowatt
The worm shaft is composed of 16MnCrS5 grade steel
The worm wheel has been fabricated by using finest grade wear proof continuous cast or centrifugally cast bronze
It also consists of ground spur gearbox unit
Available in different specifications

Version & Type

Optional accessories for gear unit :

Well built shaft and parallel key groove with DIN standard
Flanges and solid shafts for motor fitting approved by International Electrotechnical Commission ( IEC)
Various hollow shafts with parallel key grooves that are in sync with DIN standard
Push-in shafts with one or double sided shaft end, DIN approved parallel key groove is fitted with axial displacement with circlip and end disk.
Push-in shafts with one or double sided shaft end, DIN certified parallel key groove attached to axial displacement through shrink disk.
Rotational force reaction lever
Solid or hollow shaft equipped output drive flange
Shields for hollow shafts and shrink discs
| | |
| --- | --- |
| | KRISHNA ELECTRICAL DRIVES & AUTOMATION All Rights Reserved. |